A new season means a new crop of fashion trends, and for spring 2013 we're seeing a ton of new shoe trends on the market. Here are some of the hottest to look for if you're in need of a footwear update.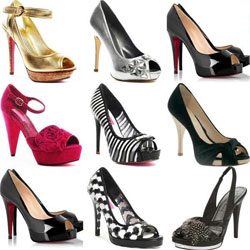 Cutouts are big this year. We've seen lots of cutouts on dresses and blouses over the past few seasons, so it only made sense the trend would eventually leap to shoes as well. Think heels in patent leather with cutouts and flats with fancy laser-cut designs. The lovely thing about cutouts is that they let you show a little bit of skin without going full-on sexy in a pair of strappy stilettos.
Pointy toes are having a moment this spring. We've embraced the rounder toe for years, and while that shape is not entirely out of fashion, pointy-toed shoes are making a comeback. Arm in arm with pointy toes is a return to lower heels sans the toe platform. Three and four inch heels, as opposed to six inch platform pumps, are the new it shoe and combined with a pointy toe they look positively fashion forward.
Ankle straps are having a huge moment as well. Dainty thin straps adorn pumps and wedge sandals alike. The sexy slip of a line highlights the ankles, a slim body part on almost any woman, and takes a simple shoe up a notch in the style department.
Going in a decidedly different direction, block heels are back. While those sexy pumps with stiletto heels, pointy toes and ankle straps scream "feminine", a pair of brogues, booties or pumps with a chunky heel adds a masculine touch to any outfit. A nice added bonus: they offer more stability for walking than a skinny heel!
Floral patterns are a springtime favorite and this year they hit shoes as well. Floral patterned pumps, flats, and sandals, even flip-flops with fabric bands are all the rage. They're a great way to try a little pattern mixing, as they look good with other florals or with stripes; but they're also a fun way to add punch to a plain outfit.
There are a couple of slightly wackier women's shoe trends this spring that may or may not tempt you. The knee-high (or even over the knee) gladiator sandal is stepping out with a heel. These openwork shoes look intimidating and can take some time to put on and take off, so they're certainly not for a quick jaunt about town or any occasion when you might need to remove your shoes in a hurry (like shopping or a trip to the airport).
Flatforms are also making waves. They're exactly what they sound like: a shoe with a tall flat platform. They hark back to the nineties and have inevitably divided the fashion scene, with some embracing the trend and others recoiling in disgust. Obviously, you'll either love or hate them!