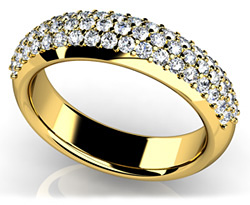 If you have been planning your wedding, then you have been really busy making sure each and every little detail is taken care of. This probably hasn't left you with much time to think about your future anniversaries. However, there are a couple of things you might want to do today, in preparation for future celebrations.
There are many things you can do to make your anniversary special. Some couples take a trip or do a vow renewal while others might present their spouse with a special keepsake such as an anniversary band or watch. Whatever you decide to do to celebrate your deep love and commitment to one another make sure it is something that you both will really love and enjoy. Here are some ideas to inspire you, when it does come time to celebrate all those wonderful anniversaries you and the love of your life will share.
Your First Anniversary
Your very first anniversary is significant, and it deserves a real celebration. Often time, couples will save the top tier of their wedding cake to enjoy on their first anniversary. Just be sure that it is wrapped up tightly, to prevent freezer burn. If you have a video of your wedding now would be a great time to get it out and watch it. If you weren't able to have a real honeymoon after your wedding you might want to consider planning a romantic getaway.
Start a Journal
Another fun thing to do is to start a journal together. You can write in it often or you may choose to write in it only on your anniversary. You can think about the past year together, what milestones were reached, what goals were achieved, and what hardships you endured together. The journal will be very special to you and your spouse. In addition, your children, and their children will treasure it for many years. Think of it as writing your own love story.
Vow Renewal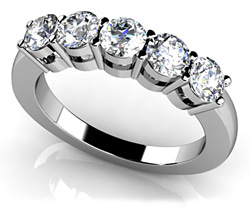 This is something people do for significant anniversaries such as their 10th, 25th, or 50th. There is no right or wrong here. It's just whenever you as a couple decide is right for you. During the ceremony, couples typically exchange new wedding or anniversary rings. Vow renewals may take place in the couple's backyard, in a grand mansion, or even on a tropical island.
Gift Giving
It is customary to present your spouse with a gift on your anniversary. It can be anything really. However for those big milestones couples usually choose an item which will be loved and adored for many years to come. Giving an anniversary ring with diamonds and/or colored stones – always makes a lovely gift, upgrading your wedding rings together is a great idea as well.
Related posts: